Drill
Drill Manufacturers, Drill Manufacturers in India, Drill Suppliers, Drill Suppliers in India, ड्रिल-Drill, Centre Drill Manufacturers, Suppliers in India, Drill Manufacturers|Suppliers in India, Drill in India, JD Cutting Tools from Pune India
Drill Manufacturers, Suppliers in India
Drill Manufacturers, Drill Manufacturers in India, Drill Suppliers, Drill Suppliers in India, ड्रिल-Drill, Centre Drill Manufacturers, Suppliers in India, Drill Manufacturers|Suppliers in India, Drill in India, JD Cutting Tools from Pune India
ड्रिल-Drill,Centre Drill Manufacturers,Suppliers in India offered by JD Cutting Tools from Pune India. JD Cutting Tools is one of the leading best drill manufacturers, suppliers in India and if you are looking for best varieties of all types of drill like Stub drill, Jobber Drill, Extra Long Drill, centre Drill Type A, centre Drill Type B and much more we are here to provide.
We offer a wide range of products including rotary, linear, and jigsaws at affordable prices with having an expert team that can help you pick the best drill for your needs. Well renowned for the drill manufacturers in India high standard quality products, competitive prices, expert team, and latest range of variety with having a professional team of engineers and sales personnel who are always available to help you with any queries or problems that you might have. We have been in the industry for over many years for the best drill manufacturers, suppliers in india and one of the most interesting team is able to provide expert advice on how to use the tools effectively, which will help you get the most out of them.
Different Types of
Drill Available by JD Cutting Tools in India with extraordinary performance:
1. Stub Drill:
JD Cutting Tools stocks and sources a wide variety of solid carbide stub length drills.
Slow helix, spade, starting, worm, coated, and left hand flutes are all available.To achieve the best results in hole tolerance and finish, use a stub length drill whenever possible. When feed force is applied, the drill becomes more rigid and does not flex.
If what you need is not available, please inquire – we can source many Drills or manufactures in India to your specifications.
2. Jobber Drill:
A jobber drill bit is one with a long length in comparison to its diameter.
Jobbers range in length from 8 to 12 or 9 to 14 times the diameter. These bits can be measured using a variety of systems, such as a basic number range (1-80), letters (A-Z), wire (increase by whole number), standard metric sizing, or fractional sizes.
3. Extra Long Drill:
Extra Long Drills are intended for drilling extremely deep holes in a variety of steels, cast iron, ferrous and non-ferrous metals and alloys. While extra-long drills can be used in stationary machines, these are most commonly used in hand held drills to reach places where jobber length drills cannot.
When used with recommended coolants or oils, standard twist drills in 6", 12", and 18" lengths
perform well in general purpose and maintenance applications.
A 135 degree split point model is also available for Aircraft Extension drills, which penetrates faster and reduces bit walking when starting a hole.
4. Centre Drill Type A:
JD Cutting Tools manufacturers & Suppliers in India. Available in all types of HSS Centre Drills in AISI M2, AISI M35, AISI M42 grades, our HSS Centre Drills.
We provide an excellent range of Center Drills based on unfathomable volumes of industrial expertise.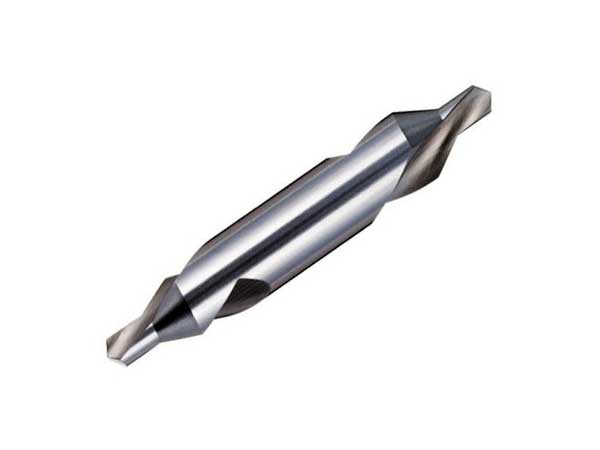 These drills are commonly used to make holes. When making these drills, our skilled craftspeople only use high-quality materials.
Because of their durability and ease of installation, our drills deliver excellent performance. Furthermore, our drills are available in a variety of sizes and shapes to meet the needs of our esteemed customers.
5. Centre Drill (Type B)
JD Cutting Tools manufactures also HSS Centre Drills in Type B as per BS 328 Part-I or DIN 333 or IS : 6709 - 1977 standards.
Are made of SAE M2 grade. SAE M35 grade is available on request. Are manufactured with ground flutes & bright finish, without or with coating (TiN /TiALN).
JD Cutting Tools Type B Centre Drills comes with 120° point angle with 60° included.
We are the one of the most leading center drill manufacturers and suppliers in India. Helping the clients in Providing the high quality products for the past years. To the clients we are one of the most reliable and and trusted brands for cutting tools in India available in high-quality center drills that are safe for use as well as easy to operate. Center Drill manufacturers in India are known for our standard quality products and the latest variety of drills and accessories at affordable prices.
6. NC Spot Drill
NC spotting drills can be used to spot high-speed steel drills. For carbide drills, 142° spot drills are used to create an
accurate starting point for secondary drilling operations. Excellent tool life is provided by high-quality substrates and coatings.
Available in uncoated or coated HSS or solid carbide. Available in 90°, 120°, and 142° angles.
7. Through Coolant Drill
Our company has established a solid reputation in the market as a reliable manufacturer and supplier of
Through Coolant Drill.
To meet industry standards, we manufacture this drill with high-quality tungsten carbide and alloy steel. Our quality inspectors inspect this drill on durability and sturdiness parameters to ensure that clients receive a defect-free range. We provide this to clients at reasonable prices through Coolant Drill.
8. Burnishing Drill
JD Cutting Tools provides a comprehensive selection of high-performance, general-purpose, finishing, roughing,
high-speed, micro, and material-specific Burnishing Drills for increased productivity and tool life.
We are dedicated to producing high-quality Burnishing Drills that deliver exactly what you expect, every time. JD Cutting Tools recognises that you require our mills to perform with extreme precision and accuracy in your manufacturing operations, so we design and manufacture Burnishing Drill Cutting tools to the most exacting specifications to ensure that when our product is in the hands of our customers.
9. Step Drill
We were able to design and develop Solid Carbide Step Drill with the assistance of experienced engineers.
Professionals design and manufacture these in accordance with industry standards. The offered drills are well-known for their characteristics such as perfect finish, precise dimensions, high strength, and durability.
Introduction:Drill
A drill is a tool that has a rotating cutting edge mounted on a spindle. It is used to bore holes in materials such as wood, stone, brick, and concrete.
The industrial drill is a metal tool that is used for drilling holes in various materials. Industrial drills are commonly used in the mining, construction, and oil and gas industries. Drills are classified according to the type of material they are designed to work with:
• For metal, carbide drills are used
• For wood, auger drills are used
• For stone and brick, percussion drills are used.
Classification:Drill
Industrial drills can be classified into two main types:
• Rotary, and
• Percussion or straight
Rotary drills rotate an abrasive cutting tool to cut through rock while straight drills use a hammering action to create a hole.
Rotary drills are the most common means of drilling rock. These consist of a main spindle driven by an electric or pneumatic motor which in turn is driven by a transmission. The cutting tool is attached to the end of this spindle and can be changed to suit the job at hand. Rotary drills include straight drills, compacting drills, explosives drills and core drills.
Straight drills are used when drilling holes in the rock. The cutting tool rotates as it pushes out the hole with a cross-shaped pattern. They are typically used for drilling holes up to 1 inch in diameter and 5 inches long but can be much larger depending on the size of the drill bits.
Features:
The most common type of industrial drill is the vertical or rotary drill.
• This type of drill uses a rotating spindle with a cutting edge mounted on it to cut into materials such as concrete, steel, wood, and plastic.
• Other types of industrial drills include the sawing machine, which uses an abrasive blade to cut through material such as metal or plastic.
• The boring machine, uses a hollow spindle with cutting teeth to bore holes into a material such as steel or concrete.
• The milling machine, uses a rotating cutter head with cutting edges to remove material from surfaces.
Drill Manufacturers, Drill Manufacturers in India, Drill Suppliers, Drill Suppliers in India, ड्रिल-Drill, Centre Drill Manufacturers, Suppliers in India, Drill Manufacturers|Suppliers in India, Drill in India, JD Cutting Tools from Pune India